Twenty Best Places to Visit in Diwali Vacation in India
India has colossal diversification and land with a maximum number of festivals and religions. Diwali, or Dipawali, the "Festival of lights," is one of India's most well-known festivals. In this, people got their buildings and houses lightened up and worshiped Goddess Laxmi.
1. Ayodhya
We will talk about the first destination, Ayodhya, the celebration of Diwali, as it is the birthplace of Lord Rama. And it is celebrated as a mark of Lord Rama's return with Sita and Laxman to Ayodhya after 14 years of eviction. You can observe the happiness and joy of the people over here. People used to come here and light lamps on Sarayu from different parts of UP. There is a Guinness Book of records of an event at this place with three lakh diyas lit.
Read more :-
Top 15 Ancient Cities in India
You will be amazed and enjoy celebrating Diwali over here. Diwali is a massive celebration where it is celebrated for four days with lots of diyas lit at Sarayu by ladies, and the city is beautifully decorated with color papers, Mandana designs, and Rangoli designs.
2. Amritsar
As we know, Amritsar is known for the Golden Temple, which the Sikhs predominate. However, the festival of light, Diwali, is celebrated in a very different and grand way here. The celebration of Diwali started in 1619 when the sixth Sikh guru, Guru Hargobind Singh, got from the prison where he had been illegally imprisoned. Several political leaders supported him for his faithfulness in getting imprisoned.
Tour Suggestion :- Jewels of Himachal with Amritsar Tour Package
Also Read:- How to Reach and Things to do in Amritsar
Diwali is the best time to travel to Amritsar because you will be lucky to witness a magnificent fireworks display in the sky over the Golden temple. Pilgrims, as well as many devotees, lit candles and oil lamps at the Golden temple, and it is also decorated with an innumerable number of lights.
3. Varanasi
Varanasi, or Banaras,is one of the famous holy places of Hindus worldwide. Varanasi is where the Ganga meets the ocean, and the widest part is here. You will have a crazy and wonderful experience over Diwali here as you will see a constant burning of firecrackers and fireworks being lightened up throughout the night.
Tour Suggestion:-
Days 8 Night Golden Triangle Yoga Tour with Varanasi
20 Days 19 Night Rajasthan tour with Khajuraho and Varanasi
Golden Triangle Tour With Varanasi 
Also Read :-
The famous event is Ganga Aarti. You can experience here when the Ghats of Varanasi, especially the Dashashwamedh Ghat, are illuminated with candles and earthen lamps that are later floated in the river.
After almost two weeks before Diwali, Dev Deepavali is celebrated on a moon night, which is a big occasion here. Moreover, it coincides with one more beautiful festival, Ganga Mahotsav.
4. Udaipur
Udaipur is another fantastic place in India to celebrate and visit during Diwali. During the festival of lights, rooftops and doorsteps are decorated with lights and fireworks, which are reflected over Lake Pichola. In addition, many tourists and devotees visit the most famous Mahalaxmi Temple in Bhatiyani Chauhatta to pray to the Goddess of Wealth.
Tour Suggestion : –
5 Night 6 Days Custom Rajasthan Cycling Tour from Udaipur to Jodhpur
11 Nights – 12 Days Colors of Rajasthan Tour Package
One more part of attraction during Diwali in Udaipur is Udaipur Light Festival which the Government started in 2012 to gather everyone and celebrate in a royal style. It includes art installations, food stalls, fun activities, and paper lanterns on Udaipur's outskirts at the Shouryagarh Resort and various performances from various singers.
5. Jaipur
The most beautiful and illuminated place during Diwali is Jaipur. Streets, houses, and shops experience most of their beauty from the warm glow of lights and oil lamps. A competition is conducted in Jaipur for the most beautifully and brilliantly decorated market. It's a very glamorous and spectacular event to attract tourists from not only India but also from outside the country. In addition, you can enjoy a special Diwali walking tour called the Vedic Walks. As Las Vegas has a "Strip," during Diwali, the Johari Bazaar has also earned the title of "The Strip" in Jaipur.
Tour Suggestion :-
Rajasthan Cultural Tour Package
5 Nights – 6 Days Exclusive Golden Triangle Tour Package By Car
You may be also interested in :- Jaipur Samode One day Tour
6. Goa
In Goa, Diwali is celebrated in very different ways and based on various stories of the destruction of Demon Narakasura by Lord Krishna. There is competition within Goa to see who can make the largest of the Demon, which later burnt down on Narakasura Chaturdashi, just a day before the primary day of Diwali.
Tour Suggestion : –
Golden Triangle Train Tour Package
Also Read :- How to Reach and Things to do in Goa
7. Delhi
Due to the increasing rate of pollution in Delhi, the Government has restricted the Diwali fireworks and firecrackers celebration. So you can experience the dazzling lightening of buildings, homes, and streets. Diwali is celebrated for five days in Delhi, starting from Dhanteras, which is considered an auspicious and good day to buy expensive goods such as gold. Then comes Naraka Chaturdashi, then on the new moon on Kartik's third day, when Lord Rama freed his wife Sita from the Ravana, Diwali is celebrated. Then comes the Balipadyami. On this day, the Annakut is all about the giveaway of feasting food. And at last, it is Bhaiduj, and a day celebrated for the relationship between a brother and sister.
Tour Suggestion :-
Delhi Full Day Sightseeing Tour
Also Read:- 10 Popular Places To Visit Near Delhi
Top Trending Destinations in India by Trip Advisor 2022
8. Ahmedabad
Diwali in Ahmedabad has complete resemblances with the culture of Delhi. Here also festival is celebrated for five days, starting from Dhanteras, a lucky day to buy expensive goods, then the second day of Naraka Chaturdashi. After this, on the new moon in Kartik, Diwali is celebrated. Then comes the Balipadyami, on this the Annakut, which is all about the giveaway of food that is feasting. And at last, it is Bhaiduj, and a day celebrated for the relationship between a brother and sister.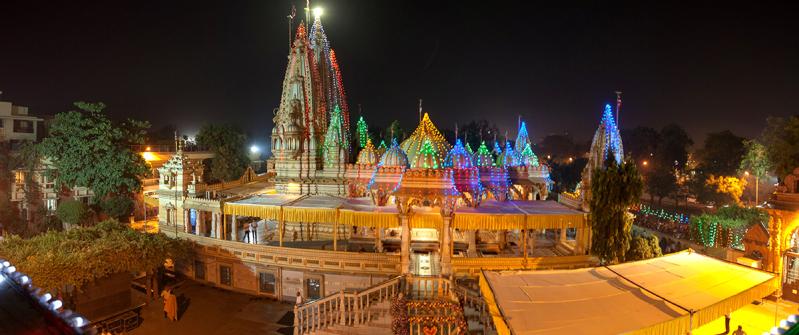 Besides this, you will enjoy fireworks and firecrackers during these days in Ahmedabad.
9. Kolkata
When everyone in India celebrates Diwali and worships Goddess Laxmi, here in Kolkata and West Bengal, this day is celebrated as Kali Puna. Maa Kali temples in Kolkata, like Kalighat, Belur Math, and Dakhsineswar, attract many tourists and devotees during this fest.
Also Read :- Best Places To Visit In Diwali Vacation In India
Beautifully decorated Goddess Kali idols, the dark mother, are also displayed across the city. During this, everything is lit up and illuminated. It is believed that Kali is worshipped for her ability to destroy all negativity.
10. Madurai
South Indian people in Madurai celebrate this festival one day before the North Indians. During this day, they stroke the oven with four-five dots and fill it with water to take a bath the next day. It is believed that taking a bath from this is the river Ganges.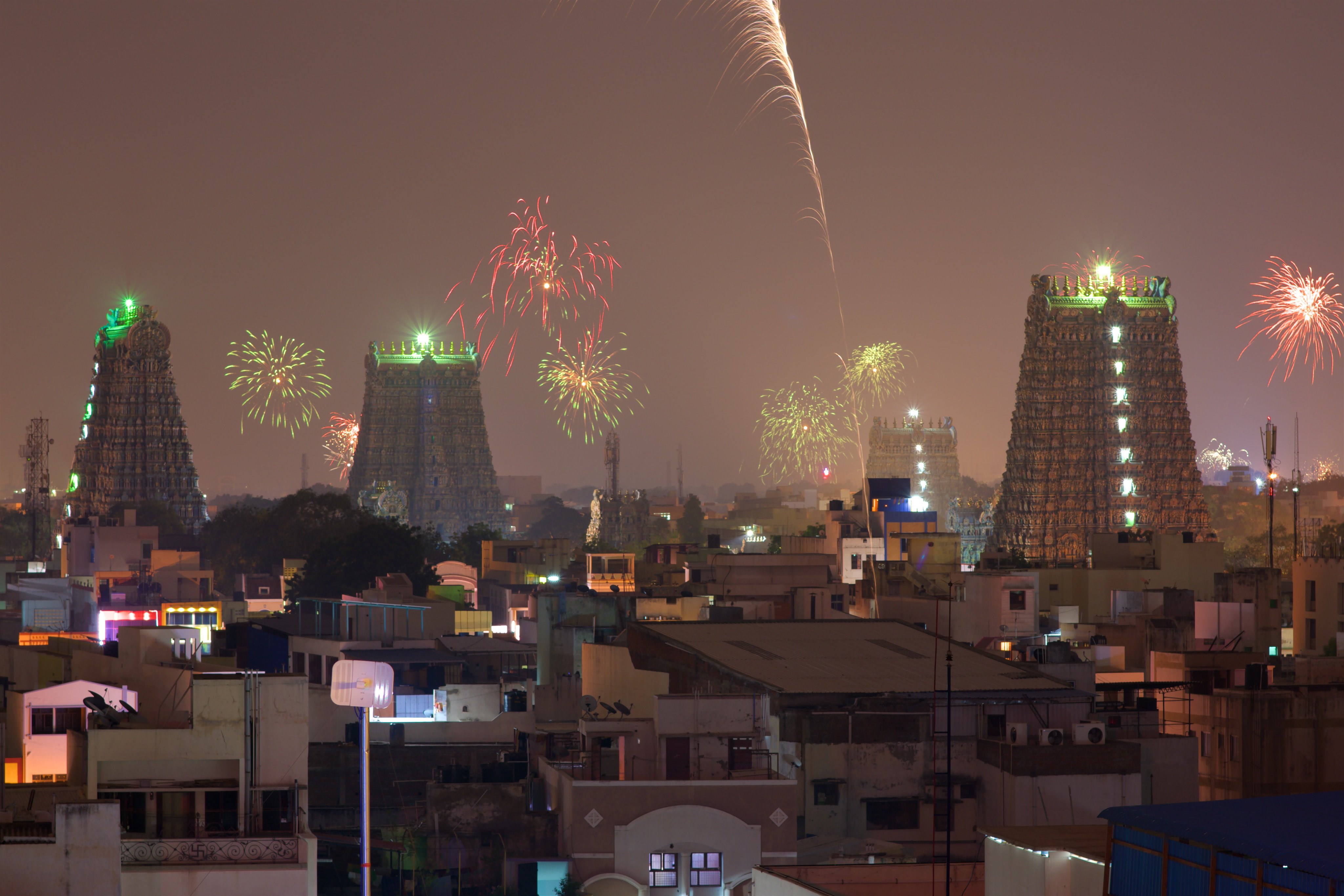 Tour Suggestion :-
Southern Explorer Tour Package
Southern Grandeur Tour Package
Also Read:- How to Reach and Things to do in Madurai
The main attraction is delicacies like jangri, pathri, oeni, vellaiappam, chutney, idli, boondi, omapodi and sambhar.
11. Pushkar
Pushkar is a fantastic city full of dunes, lakes, hills, and forests around Pushkar lake. Most people visit this oasis town for its spirituality and beauty. It's a glorifying experience to take a dip in Pushkar lake and visit India's famous Brahma temple. During Diwali, you will experience the annual camel fair in which approximately 50,000 camels are dressed in colorful decorations and clothing.
Tour Suggestion:-
14 Nights – 15 Days Pushkar Camel Fair.
6N/7D Delhi-Jaipur-Agra-Pushkar Tour Package
Read more:-
Top 20 Places Which Foreigners Like to Visit in India
12. Gujarat
Diwali here in Gujarat marks the end of the year and the beginning of a new one. Starting is grand, and the festival ends quietly. All five days of the festival are decorated with Diyas and Rangoli designs. Some of the rituals are performed in a tribal style which is very famous. Gifting gold is also an essential part of the occasion for the Gujaratis. While sweets are not so prominent here, some homemade delicacies like samosa, aloo Tikki, etc., are served.
13. Mysore
During Diwali, the entire city is illuminated with lights. And the Mysore Palace, which is a breathtaking sight at night. Houses are decorated with Diya and rangoli made of colors and designs. Brindavan temple and Somnathpuram temple are the most attractive places to visit during this fest. You will find sweet stalls on every corner during Diwali, as sharing sweets is an integral part of the festival.
Tour Suggestion :-
Temples & Backwaters Tour Package
Also read :-
Top 10 Places to Stop Over in And Around Mysore
14. Mumbai
One of the best places to celebrate and visit during Diwali is Mumbai. Walking to LJ road in Mahim, you will experience hanging lanterns placed all over the street and their beautiful decoration. Mumbai is the brightest during Diwali. A stopover at the Bangananga tank would be a fantastic experience, with tiny floating lamps lit all over the water. At Marine drive, you can enjoy the colorful display of crackers bursting into the sky.
Tour Suggestion :-
17 Nights – 18 Days Explore Rajasthan, Taj & Ajanta Tour Package
Royal Rajasthan & Taj With Goa Tour Package
Read More :-
Top 4 Most Popular Places for Couples in India
When & Where to Go in India 2022 – A Complete Guide
15. Kovalam
If you are in Kerala during Diwali, then the most beautiful place to visit is Kovalam beach. Here, many tourists join together, light Diya, and place it on the beach's sandy shores. The whole coast would be lit up on Diwali, and the firecrackers also accompany them.
16. Odisha
It is uniquely celebrated in Odisha, accompanied by Kali pooja and a ceremony of Badabadua Daka. The idols of Kali are placed at various pandals, and pooja is done during the day of Diwali.
Read more :-
Spirituality in India: Top 10 Pilgrimage Sites You Must Visit
20 Must Visit UNESCO World Heritage Sites In India
Burning jute sticks celebrate the Badabadua Daka in the Jagannath temple to invite ancestors and celebrate the festival with them during Diwali.
17. Agra
While Diwali is not celebrated as in other neighboring cities, the whole town is adorned with vibrant lamps in houses and even along the streets during Diwali. Flowers are used for the decoration of houses. Ram, Sita, and Laxman statues are placed, decorated, and worshipped in street sides and temples.
Tour Suggestion :-
2N/3D Taj And Ganga By Train Tour Package
3D/2N Delhi Jaipur Agra Tour Package
Read More :-
10 Facts You Probably Didn't Know About Taj Mahal
The Golden Triangle Tour: 10 Must-See Places
18. Assam
In Assam, the houses are decorated with flower garlands, diyas, mango leaves, marigolds, and lights for five days festival. The first day is Dhanteras when homes are cleaned and decorated to welcome Goddess Laxmi. The second day is called Naraka Chaturdashi, then Diwali, and after that, Balipadyami. And it ends with, at last, Bhaiduj. People here celebrate Diwali by greeting and blessing each other.
Tour Suggestion :- Exquisite & Serene North – East Tour Package
Also Read : – India's Beauty in States: The Top 10 to Visit
19. Chennai
When we go to the south, Diwali is considered the day when Krishna killed the Demon Narakasur. People used to take oil baths and then worship Lakshmi. Sharing sweets is integral to the fest, and newly married-couples are invited for lunch. At night the city becomes very beautiful because of enlightening of diyas all over, and crackers burst just outside the houses and on roads.
Tour Suggestion :-
Top 10 Places in India Where Indians Are Not allowed
Top 15 Must Visit Cities In India
20. Jammu
Diwali is celebrated with a lot of traditions in Jammu and Kashmir. The whole state lights up during Diwali. People used to buy new things for their houses during this occasion. The Kashmiri Pandits take full day fast and worship Goddess Lakshmi. Wearing new clothes, making sweets, and giving cash as gifts are vital parts of the Diwali celebration in Jammu.
Tour Suggestion :-
Explore North India Tour Package
You may be also interested in :-
Now that we know the top 20 places for Diwali vacation in India, you must pack your bags and get the best Tour Agent in Jaipur. I recommend India by Car and Driver and Trip 2 India Tours. The Tours and Travels Agency in India provide the best tour packages for a fantastic vacation.